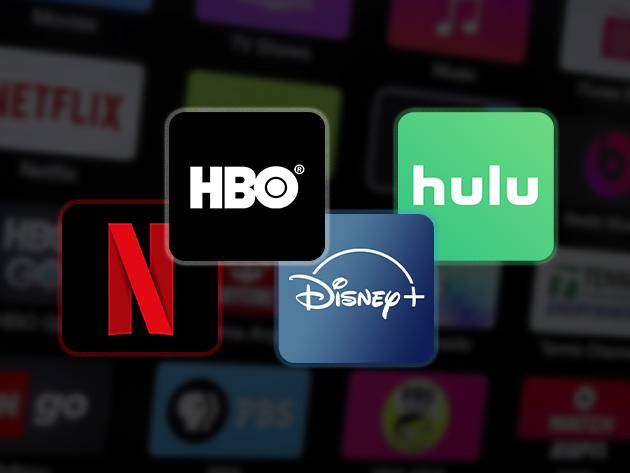 The Pick Your Streaming Service & Device Giveaway: HBO Now, Apple TV+, Hulu, Disney+ & More
Here's Your Shot at Winning a Free Media Streaming Device (Apple TV, Roku, Etc.) & 1-Year Subscription to the Streaming Service of Your Choice!
Description
Winter is finally upon us, which means it's time to cuddle up on the couch and get your hibernate on. During these frigid months, there's nothing better than binging all of your favorite tv shows on a sleek new streaming device — especially when it doesn't cost you a dime. Enter now for your chance to win a brand new streaming device (Apple TV, Roku, you name it!) AND a year's subscription to any streaming service your heart desires (Hulu, Netflix, Showtime, Disney+, the choice is yours!) for the ultimate binge-athon.
Enjoy a year-long subscription to the streaming service of your choice — including, but not limited to: Netflix, Hulu, HBO, Showtime, Disney+, and more
Stream all your favorites on a brand-new media player of your choosing — including, but not limited to: Apple TV, Roku, Amazon Fire Stick, Google ChromeCast, and more
Note: Total cost of the annual streaming service subscription and media player must not exceed $1,000
OFFICIAL RULES FOR The Pick Your Streaming Service & Device Giveaway: HBO Now, Apple TV+, Hulu, Disney+ & More NO PURCHASE NECESSARY TO ENTER OR TO WIN. VOID WHERE PROHIBITED. 1. Eligibility. Subject to the additional restrictions below, the StackCommerce The Pick Your Streaming Service & Device Giveaway: HBO Now, Apple TV+, Hulu, Disney+ & More Sweepstakes ("Sweepstakes") is open to all legal residents of the United States who are eighteen (18) years of age or older as of the date of entry. For purposes of these Official Rules, all times are Pacific Standard Time (PST). Employees or agents of StackCommerce, Inc. ("StackCommerce") and co-sponsors of the Sweepstakes (if any) and their respective affiliates, subsidiaries, advertising/promotional agencies, and the members of their immediate families (i.e. parents, children, siblings or spouse) or those persons living in the same household of such individuals are ineligible to enter or win. The Sweepstakes is subject to all applicable federal, state and local laws and regulations. Void where prohibited by law. Participation constitutes entrant's full and unconditional agreement to these Official Rules, any terms that apply to your use of Facebook's policies and procedures (to the extent you seek Additional Entry per below) and any other terms that apply to your use of Facebook and Sponsor's decisions, which are final and binding in all matters related to the Sweepstakes. Winning a prize is contingent upon fulfilling the eligibility requirements set forth above and below. 2. Sponsor(s): StackCommerce, Inc., 21 Market Street, Los Angeles, California 90291 and any co-sponsors shown on the dedicated Sweepstakes page at StackCommerce.com (collectively referred to hereafter as "Sponsor"). 3. Sweepstakes Term. The Sweepstakes will end at 11:59 PM PDT on 04/04/20 (the "Sweepstakes Term"). Sponsor's computer is the official time keeping device for the Sweepstakes. 4. How To Enter. You may enter the Sweepstakes by visiting by following all onscreen instructions to complete and submit the online entry form ("Primary Entry") on the dedicated Sweepstakes page. You can earn an Additional Entry in the Sweepstakes when you send the Sweepstakes page to a friend, age 21 or older, by following the Additional Entry instructions on the screen ("Additional Entry") and the friend enters the Sweepstakes inputting your referral information. No other methods of delivery will be accepted, including submission by email. ALL ENTRIES MUST BE SUBMITTED DURING THE SWEEPSTAKES TERM. All entries become the exclusive property of StackCommerce and will not be acknowledged or returned. Winner will be selected at random. By entering, you agree to the terms of these Official Rules and to receive newsletters via electronic mail from the Sponsor or those directed by Sponsor (see Section 12 below for more details). StackCommerce is not responsible for incomplete, lost, damaged, forged, stolen, postage due, late, undeliverable, misdirected, illegible entries or for failure to receive entries due to transmission failures or technical failures of any kind, including, without limitation, malfunctioning of any network, hardware or software originating with StackCommerce. Any attempt by any entrant to obtain more than the stated number of entries by using multiple/different email addresses, identities, registrations and logins, or any other methods will void that entrant's entries and that entrant may be disqualified. In the event of a dispute, all online entries will be deemed to have been submitted by the owner of the ISP account from which they were sent. For these purposes, an ISP account holder shall mean the natural person assigned to such ISP account by the Internet access provider, online service provider or other organization responsible for assigning ISP addresses for the domain associated with such ISP account. Any questions regarding the number of entries submitted or the owner of an ISP account shall be determined by StackCommerce in its sole and exclusive discretion, and StackCommerce reserves the right to disqualify any entries by persons determined to be tampering with or abusing any aspect of the Sweepstakes. 5. Prizes & Approximate Retail Value. A total of $0.00 prizes will be awarded to winners selected at random. One Grand Prize is available, to be given away. The Grand Prize consists of: with an approximate retail value ("ARV") of $0.00. StackCommerce's decisions as to the administration and operation of the Sweepstakes and the selection of the potential winner are final and binding in all matters related to the Sweepstakes. The potential winner will be notified immediately via email or through Facebook. The award of prizes exceeding a retail value of $600 is subject to applicable withholding requirements and the winner will receive an IRS Form 1099 reflecting the actual final retail value of the prize. Where permitted by law, the potential winner will be required to sign and return to Sponsor(s), within seven (7) business days of the date the notice is sent, an affidavit of eligibility and liability/publicity in order to claim their prize. If a potential winner cannot be contacted or fails to sign and return the affidavit of eligibility and liability/publicity release within the required time period, the potential winner forfeits the prize, unless prohibited by law. Receipt of a prize by a potential winner is contingent upon fulfilling all requirements described herein. The winners must continue to comply with all terms and conditions of these Official Rules after prize notification. In the event that a potential winner is disqualified for any reason, StackCommerce will award the applicable prize to an alternate winner by random drawing held by Sponsor from among all remaining eligible entries received during the Sweepstakes Term. Prizes may not be transferred or assigned except with Sponsor's written consent. 6. Odds. The odds of winning a prize is equal to the number of Sweepstakes prizes divided by the total number of entries to the Sweepstakes. 7. Release and Indemnification. By entering the Sweepstakes, entrants release any and all rights to bring any claim, action or proceeding against Sponsor (including StackCommerce, Inc.) and Facebook and their respective subsidiaries, affiliates, suppliers, distributors, advertising/promotion agencies, and prize suppliers and their respective parent companies and such companies' officers, directors, employees and agents (collectively, the "Released Parties"), and further covenant not to sue any Released Parties and hereby acknowledge that none of the Released Parties have made or is in any manner responsible or liable for any third party claims, warranty, representation or guarantee, express or implied, in fact or in law, relative to the Sweepstakes or the prizes. By participating in the Sweepstakes and/or accepting any prize that may be awarded, entrants agree to fully indemnify each Released Party from any and all such claims by third parties without limitation. IF YOU ARE A CALIFORNIA RESIDENT, YOU WAIVE ANY AND ALL RIGHTS UNDER SECTION 1542 OF THE CIVIL CODE OF THE STATE OF CALIFORNIA, WHICH PROVIDES AS FOLLOWS: "A GENERAL RELEASE DOES NOT EXTEND TO CLAIMS WHICH THE CREDITOR DOES NOT KNOW OR SUSPECT TO EXIST IN HIS OR HER FAVOR AT THE TIME OF EXECUTING THE RELEASE, WHICH IF KNOWN BY HIM OR HER MUST HAVE MATERIALLY AFFECTED HIS OR HER SETTLEMENT WITH THE DEBTOR." You expressly waive and release any right or benefit which you have or may have under Section 1542 of the Civil Code of the State of California, to the full extent that you may waive all such rights and benefits pertaining to the matters released here. In connection with such waiver and relinquishment, you acknowledge that you are aware that you may hereafter discover claims presently unknown or unsuspected, or facts in addition to or different from those which you now know or believe to be true, with respect to the matters released herein; nevertheless, it is your intention through this release to fully and finally and forever settle and release all such matters and claims relative thereto, which do not exist, may exist or heretofore have existed between you and the Released Parties. The release herein given shall be and remain in effect as a full and complete release of such claims and matters notwithstanding the discovery or existence of any such additional or different claims or facts relative thereto. Entrants agree that StackCommerce, Facebook, and any other Released Parties shall not be responsible or liable for any losses, damages or injuries of any kind resulting from the Sweepstakes or any Sweepstakes-related activity (including any travel or events related to prizes awarded). StackCommerce, Facebook, and any other Released Parties assume no responsibility for any damage to an entrant's computer system which is occasioned by accessing or participating in the Sweepstakes, or for any computer system, phone line, hardware, software or program malfunctions, or other errors, failures, delayed computer transmissions or network connections that are human or technical in nature. In the event StackCommerce is prevented from continuing with the Sweepstakes (or awarding any prize) as contemplated herein by any event beyond its control, including but not limited to fire, flood, earthquake, explosion, labor dispute or strike, act of God or public enemy, or any federal, state or local government law, order, or regulation, or other cause not reasonably within StackCommerce's control (each a "Force Majeure" event or occurrence), then subject to any governmental approval which may be required, StackCommerce shall have the right to modify, suspend, or terminate the Sweepstakes. 8. Publicity. Except where prohibited by law, participation in the Sweepstakes constitutes winner's consent to Sponsor's and its agents' use of winner's name, likeness, photograph, voice, opinions and/or hometown and state for promotional purposes, in any and all media worldwide, for any purpose and without further payment or consideration, including without limitation, commercial, advertising and promotional purposes as well as in, on or in connection with Sweepstakes or other promotions, and hereby releases StackCommerce from any liability with respect thereto, unless prohibited by law. 9. Participation. By entering this Sweepstakes, entrants agree to be bound by these Official Rules and the decisions of StackCommerce. If the potential winner declines the prize, fails to claim the prize, is unavailable for prize fulfillment, fails to abide by the Official Rules, or is ineligible, StackCommerce may randomly select an alternate winner from all remaining eligible entries. StackCommerce reserves the right to disqualify persons found tampering with or otherwise abusing any aspect of this Sweepstakes as solely determined by StackCommerce. StackCommerce is not responsible for any non-intentional, incorrect or inaccurate information associated with this Sweepstakes or for any technical or human error that may occur in the administration of this Sweepstakes. In the event the Sweepstakes is compromised by a virus, non-authorized human intervention, tampering or other causes which corrupts or impairs the administration, security, fairness or proper operation of the Sweepstakes, StackCommerce reserves the right in its sole discretion to suspend, modify or terminate the Sweepstakes. Should the Sweepstakes be terminated prior to the stated expiration date, StackCommerce reserves the right to award prizes based on the entries received before the termination date. The winner releases Sponsor and their affiliated companies from any claims, costs, expenses or liability incurred by winner in connection with this Sweepstakes or winner's acceptance and use of the prize, including any travel related thereto. StackCommerce's failure to enforce any of these Official Rules shall not constitute a waiver of that provision. 10. Limitations of Liability. The Released Parties are not responsible for: (1) any incorrect or inaccurate information, whether caused by entrants, printing errors or by any of the equipment or programming associated with or utilized in the Sweepstakes; (2) unauthorized human intervention in any part of the entry process or the Sweepstakes; (3) technical or human error which may occur in the administration of the Sweepstakes or the processing of entries; or (4) any injury or damage to persons or property which may be caused, directly or indirectly, in whole or in part, from entrant's participation in the Sweepstakes or receipt or use or misuse of any prize. If for any reason an entrant's entry is confirmed to have been erroneously deleted, lost, or otherwise destroyed or corrupted, entrant's sole remedy is another entry in the Sweepstakes, provided that if it is not possible to award another entry due to discontinuance of the Sweepstakes, or any part of it, for any reason, StackCommerce, at its discretion, may elect to hold a random drawing from among all eligible entries received up to the date of discontinuance for any or all of the prizes offered herein. No more than the stated number of prizes will be awarded. In the event that production, technical, seeding, programming or any other reasons cause more than stated number of prizes as set forth in these Official Rules to be available and/or claimed, StackCommerce reserves the right to award only the stated number of prizes by a random drawing among all legitimate, unawarded, eligible prize claims. LEGAL WARNING: ANY ATTEMPT BY AN INDIVIDUAL, WHETHER OR NOT AN ENTRANT, TO DELIBERATELY DAMAGE, DESTROY, TAMPER OR VANDALIZE THIS WEB SITE OR INTERFERE WITH THE OPERATION OF THE SWEEPSTAKES, IS A VIOLATION OF CRIMINAL AND CIVIL LAWS AND STACKSOCIAL RESERVES THE RIGHT TO SEEK DAMAGES AND DILIGENTLY PURSUE ALL REMEDIES AGAINST ANY SUCH INDIVIDUAL TO THE FULLEST EXTENT PERMITTED BY LAW. 11. Disputes. Any and all disputes, claims and causes of action arising out of or connected with this Sweepstakes or any prize awarded shall be resolved in accordance with the dispute resolution procedures set forth in our Terms of Service (section 19) https://stacksocial.com/terms . Please review carefully as those procedures require binding arbitration (in most instances) and waive any class action rights. You acknowledge and agree that those procedures provide your sole and exclusive avenue for resolving disputes related to the Sweepstakes. 12. Entrant's Personal Information. By entering this Sweepstakes, you are agreeing to receive the Sponsor(s)' newsletters (including newsletters from its affiliated sites) and accepted the provisions of StackCommerce's privacy policy located at http://www.StackSocial.com/privacy/. Your information will never be sold to anyone. You can unsubscribe easily from StackCommerce by clicking on the unsubscribe link in the bottom of the newsletter. The personal information collected from each entrant in the course of the Sweepstakes will be used by StackCommerce for the purposes of administration of the Sweepstakes and as otherwise permitted in accordance with StackCommerce's Privacy Policy and any applicable Sponsor's Privacy Policy. Please see StackCommerce's Terms of Service for more information. StackCommerce Inc. reserves the right to alter any rules of any sweepstakes at anytime. If you have any questions or complaints about a StackCommerce Inc. sweepstakes, please contact info@StackSocial.com. You are advised that StackCommerce.com and the Sweepstakes are hosted in the United States. If you are accessing StackCommerce.com from the European Union, Australia, Asia, or any other region with laws or regulations governing personal data collection, use, and disclosure, that differ from United States laws, you are transferring your personal data to the United States which does not have the same data protection laws as such other regions. By providing your personal information to StackCommerce.com, you are consenting to the transfer of your information to the United States for processing and maintenance in accordance with StackCommerce's Privacy Policy and the Official Rules. You are also consenting to the application of United States law in all matters concerning the Sweepstakes and StackCommerce. 13. Construction. The invalidity or unenforceability of any provision of these rules shall not affect the validity or enforceability of any other provision. In the event that any such provision is determined to be invalid or otherwise unenforceable, these rules shall be construed in accordance with their terms as if the invalid or unenforceable provision was not contained therein. 14. Winner List. For a copy of the name of the winner(s), available after 11:59 PM PDT on 04/04/20 + 1 month, 2018, or a copy of these Official Rules, send a self-addressed, stamped envelope to, StackCommerce, Inc., Attn: "Winner List/Official Rules" for The Pick Your Streaming Service & Device Giveaway: HBO Now, Apple TV+, Hulu, Disney+ & More 21 Market Street, Los Angeles, California 90291. 15. Facebook Disclosures. The Sweepstakes is in no way sponsored, endorsed or administered by, or associated with, Facebook.
Terms
Streaming services and media players are not affiliated with this contest. This promotion is in no way sponsored, endorsed or administered by, or associated with, Facebook. You are providing your information to StackCommerce, Inc. and not to Facebook.