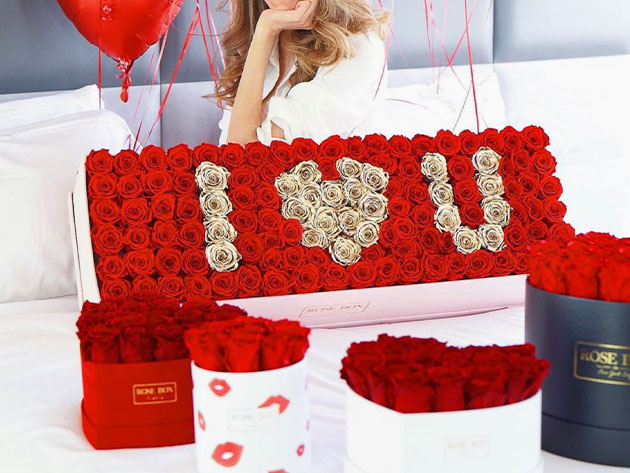 The Love Blossoms Valentine's Day Giveaway ft. Rose Box's 150 XL Long-Lasting Roses
Win Over $1k of Natural Roses in a Beautiful Velvet Box, Customized for Your Amour
Description
When it comes to V-day gifting in the 21st century, are flowers passé? We say, no way—especially when the floral work is this impressive. Rose Box NYC's arrangements go way beyond your typical bouquet. Made with natural, long-lasting roses, anything they put together is sure to wow your valentine, but why not go big with their custom jumbo package? Each beautiful velvet box contains around 150 stunning roses that are handpicked and preserved at an exclusive rose farm in Ecuador. The unique preservation process guarantees your roses will last for at least one year without any maintenance. Create memories this Valentine's Day that you can relive again and again each time you set eyes on your Rose Box.

So how do you enter for a chance to win? It's simple!

All you have to do is enter your email address above for free giveaway entries or spend at least $25 between 1/19/22 - 2/3/22 and automatically receive 5 free entries into the giveaway.
Winner will receive around 150 XL natural, long-lasting roses in the color of their choice, packaged in a black or pink velvet display box, perfect for gifting
Exceptional floral experience combines the alluring essence of the rose with longevity via Rose Box's unique preserving process
Sustainably enjoy your flowers for over a year—no watering or maintenance required!
Roses are handpicked and preserved at an exclusive rose farm in Ecuador, where only the highest quality of roses are produced
Ideal for any occasion and guaranteed to last
What You'll Win:
Around 150 XL natural, long-lasting roses
Velvet gift and display box measuring 35.5" x 11.8" x 8.6"
Total Value: $1,399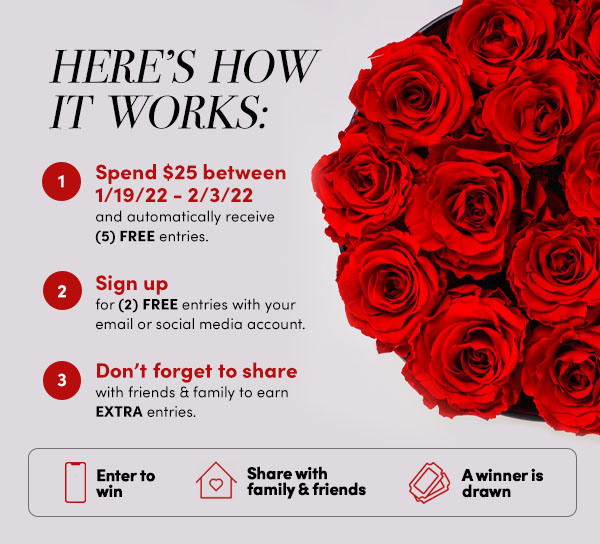 About Rose Box NYC
Rose Box was founded on the precedence of love and passion for fresh-cut roses and what they symbolize. Rose Box's mission is to make roses part of home design, a fashion statement, and to encourage positive energy to flow wherever they are present.